Final Fight™ |

Magic Sword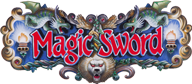 History
Magic Sword - Heroic Fantasy is a timeless classic originally released in Arcades in 1990. Those who know it love it; unfortunately it was ultimately overshadowed by the rise of the fighting game genre at the time. As such, Magic Sword did not realize the full awareness it deserved.
The game received a port in 1992 on the SNES, but this version differed on many elements and paled in comparison to the arcade original. Now Capcom is very happy to bring Magic Sword back in Double Impact. The title returns with an perfect arcade experience, a hard-hitting selectable new soundtrack, frame perfect online co-op, and a barrage of new video modes. While not as famous as Final Fight™, it carries some of the same mechanics, and is a big cult favorite. We are proud to celebrate it's re-release with the fans, new and old.
Story
In Magic Sword, a Brave One has risen to the ultimate challenge. "I will battle the Hosts of Hell and destroy the evil crystal, 'Black Orb', so that light may live again." You control the Brave One, unlocking and joining forces with 8 allies of righteousness to defeat the demon Drokmar. Battle your way through 50 floors of the Dragon's Tower using your skill with sword and magic, to defeat the multitude of evil minions. Eliminate Drokmar and save the world from the lightless hell it has been cast into, but beware of Chimera, Bears, Dragons, Trolls and more... all in the wait, hungry for your blood.